What can we do for you?
Provide Interactive Mapping (IM) application
Delineate areas of interest with borders and/or shading
What can you do with an Interactive Mapping application?
Insert points of interest (water monitoring, office locations, municipal authorities, superfund sites, known pollutants/polluters)
Record information and data for points of interest
Upload photographs for points of interest
Measure distances
Track water quality
Example: South Branch Watershed Association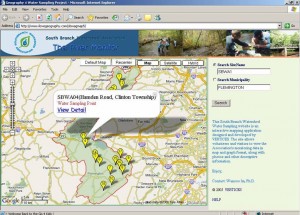 South Branch Watershed is identified as a green shaded area with a red boundary
Water monitoring points are identified with yellow arrows
When monitoring point (arrow) is selected information regarding the site appears
View detail can show any information collected and recorded which then can be displayed graphically
Can track changes in data over course of time (years, weeks, seasons)
We can include anything you want and tailor the applications to all of your needs!