Environmental Commissions
What can we do for you?
Provide Interactive Mapping (IM) application
Delineate areas of interest with borders and/or shading
What can you do with an Interactive Mapping application?
Insert points of interest (water monitoring, office locations, municipal authorities, superfund sites, endangered habitats, wetlands, soil types, known pollutants/polluters)
Record information and data for points of interest
Upload photographs for points of interest
Measure distances
Example 1: D & R Greenway Land Trust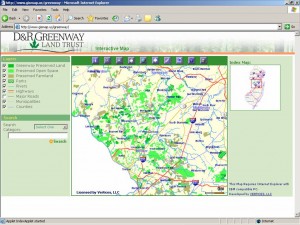 This map delineates several different designated types of land:
Greenway Preserved Land
Preserved Open Space
Preserved Farmland
Parks
This application also shows:
Rivers
Highways
Major Roads
Municipalities
Counties
Each layer can be turned on or off individually so one can view only the information they want.
Example 2: Bernards Township GIS Technology in Science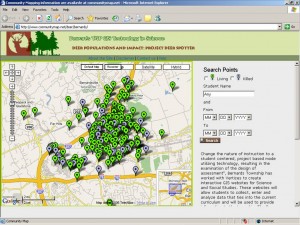 This is an application created for the Bernards Township School District which students use to record and track the deer population of their town.  Similar applications can be created to track any animal populations based on sightings and known habitats.
Green arrows denote live deer sightings while the gray arrows represent the locations of deceased deer.
How are these Interactive Mapping applications useful?
Anyone with administrator access to the application can edit, add, or delete data from any internet connection at anytime.
Since you would control the content you can include what you think is important or areas that may concern your commission.  Who knows better what to include then you?
Spread awareness among your community or municipality regarding the state of the environment and animal populations in your area of concern.
We can include anything you want and tailor the applications to all of your needs!